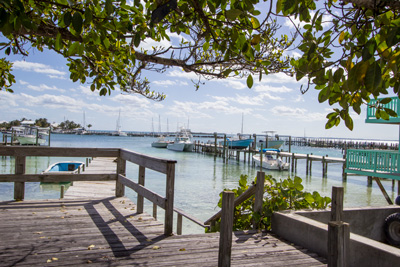 Great Guana Cay is known for its long, beautiful beach. Miles of white, sandy beach is waiting for you - just to be explored. The beach is perfect for walking, running, swimming, snorkeling, surfing or collecting shell, sea glass or sea beans. Maybe you'll even find an antique glass ball that has floated ashore. When you go strolling down the beach, you'd be surpriced if you meet anyone else.
Great Guana Cay is approximately seven miles long. There is excellent fishing on the reefs and offshore. Bonefish abound in the shallow bays on the Sea of Abaco side of the cay.
Great Guana Cay is one of the most beautiful cays in the Bahamas. If you're looking for peace and quiet - it's there. If you're looking to socialize or party - you've got it on Guana Cay. When you feel totally at peace and are ready to socialize, you can visit one of the three beach bars, all with beautiful views.
There's a new addition to the bar/restaurant scene on Guana Cay: "Mermaids on the rocks". This is a boutique hotell, a restaurant, a pool bar with access from the Sea of Abaco. This bar is halfways down the cay due North from the Settlement.
---
Nipper's Beach Bar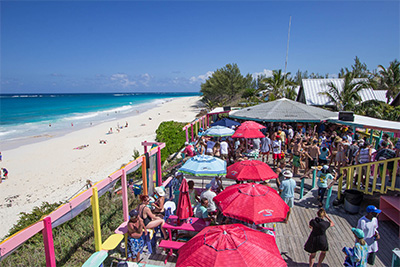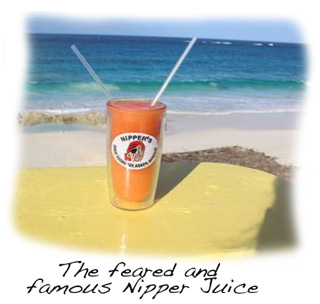 The most famous bar is Nipper's on the ocean side. Nipper's has two swimming pools and is open every day of the week. People from all over the Abacos come for the Sunday Pigroast party. Not only to taste the delicious buffet, but also to experience the feared and famous frozen "Nipper Juice". You too would probably want to try the Nipper juice, a tropical drink that is a lot stronger than you think. This drink makes it is easy to forget your beach bag, cell phone, children, husband, etc.
Nipper's on Sundays is for enjoying life with a crowd, and for watching people dance on the tables. You may even find yourself dancing on a table too.
Nipper's is open every day, from morning to late evening. From the bar you have an amazing view to the stunning beach and the Atlantic Ocean. You just walk down the stairs, and you're on the beach.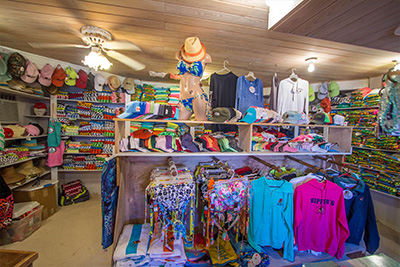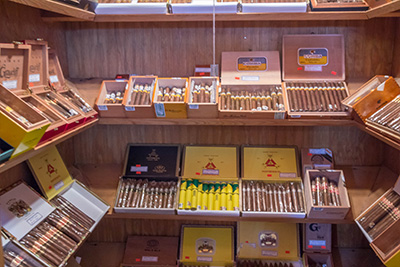 The newly expanded gift shop at Nipper's offers beach wear, caps, t-shirts, jewelry, bags, souvenirs, and cigars.
The air conditioned, indoor restaurant called "Overso" offers a bug free dining alternative to the outside bar, where the small Nippers (sandflies) might get at you if you don't spray yourself.
---
Grabber's at Sunset Beach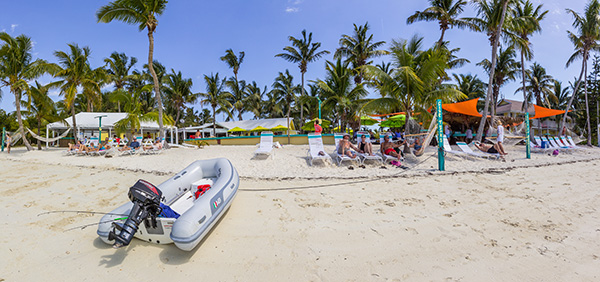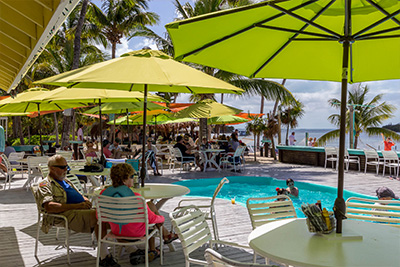 If you walk to the left when you get off the ferry dock, you'll find Grabber's Bed Bar & Grill at the end of the Front Street. Grabber's is located by the Sea of Abaco, on Sunset Beach, and yeah, the sunset is breathtaking from there.
Grabber's Resort at Sunset Beach is facing the Sea of Abaco, with a beach perfect for small kids.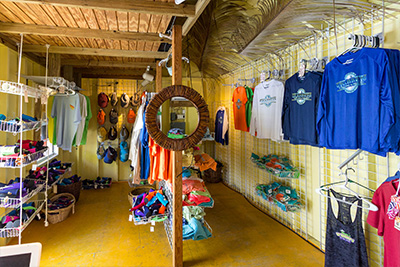 At Grabber's you can hang out in a hammock while you're watching the sailboats anchoring up at Fisher's Bay. You can get on a paddle board and paddle around the small rock (Dehlias Cay) you see out in the bay, or get in a kayak with a friend and paddle along the shore line. At Grabber's you can have lunch, dinner, or just a drink. Grabber's serve their own concoction of a dangerous tropical drink. This one is rightly called "Guana Grabber", so watch yourself after a few of those.
---
Kid's Cove Bar

Kid's Cove is a littla tike bar located between Nipper's and Grabber's - right on the Front Street. Kid's Cove is the place to sit if you want to watch all people passing by on the road to Nipper's, Grabbers or Orchid Bay. They sometimes serve dinner too. There is additional seating by the waters edge.
---
Orchid Bay Marina - Sunsetter's Restaurant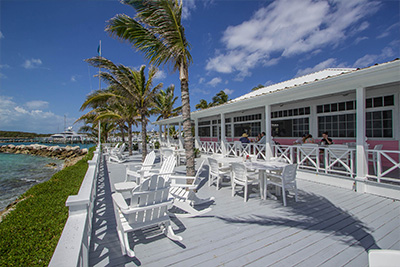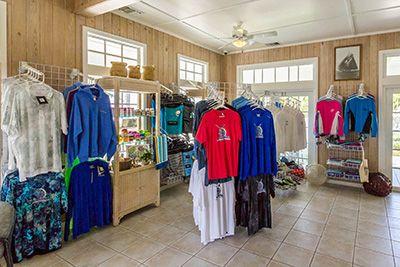 If you turn right from the ferry dock and stroll down the Front Street, you'll enjoy the view along the harbour. If you continue right at the end of Front Street (by the Grocery store), you end up in Orchid Bay Marina, where you can enjoy looking at boats from all over the world while you have lunch or dinner on their large restarant deck.
---
Wi-fi and General Info
All the bars have WiFI Internet and free US phones.
The general population on Guana consists of about 150 people. In addition, there are at least as many second home-owners, but they are all rarely on the island at the same time. Numerous ex-pats and Bahamians from all over the Bahamas are working at Baker`s Bay and residing on the Island. And then we have tourists, of course. The locals are friendly and most of them would greet you with a "hi" and a wave on passing. If you have questions, everyone will be more than happy to help you.
Guana Cay has one small school with only 5-6 pupils. The rest of the kids take the ferry over to Marsh Harbour to private schools.
---
Shopping on Great Guana Cay - Stores on the island other than our own Dive Guana Gift Store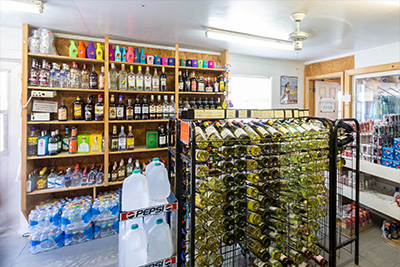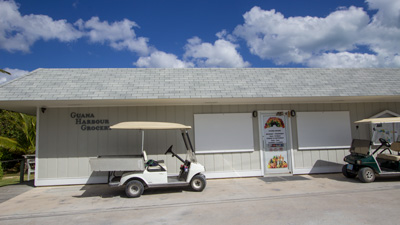 There are lots of opportunities to go shopping for gifts, beach wear or souvernirs for yourself and anyone else. Both Nipper's, Grabber's and Orchid Bay Marina have gift shops, featuring their own brand.
We also have a liquor store on Guana Cay, where you can get snacks, soda and water as well
The only grocery store is located at the opposite side of the harbour from the ferry dock. You shouldn't want for anything on Guana Cay.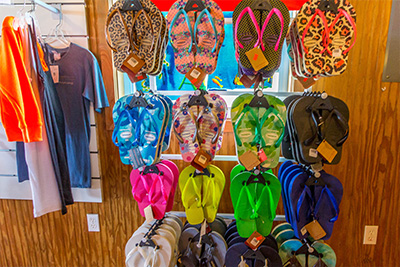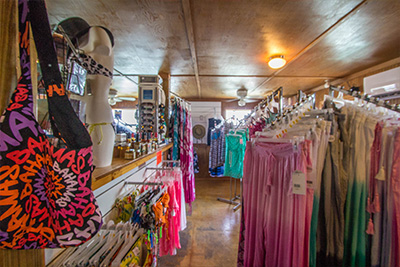 In the same building as the Fig Tree Liquor store on the Front Street, you'll find "Gotta Love Guana". They have a selection of beach wear, flip flops, sun glasses and feature their own brand.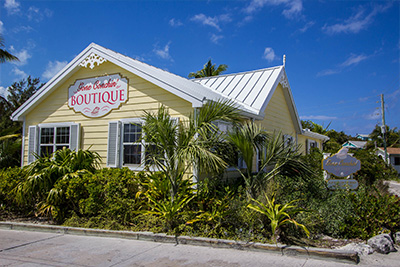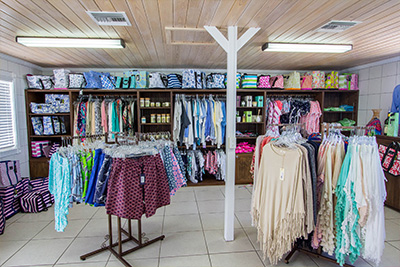 Across the street from the ferry dock, you'll find "Gone Conchin'", with hight end resort clothing and gifts.
---
Activities you can do on Great Guana Cay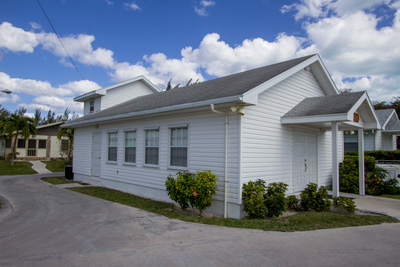 You can go scuba diving or island hopping with us, rent a golf cart or a bicycle or a kayak from us, and then explore the island on land or water.
If you would like to go to Church on Sunday, you'll find the church on the left hand side in the harbour as you go from the ferry to the grocery store.
---
Docking on Great Guana Cay
If you plan to visit by boat, there are a few places in the harbor you can dock if you don't want to use one of our buoys in the harbour or in Fisher's Bay. We collect a fee each morning for the use of our buoys.